HEALTH PLAN
The basic health plan of our breeding stock is as follows:
Before each Heat
Full vaccines and de-worming.
Veterinary check-up prior to mating.
X-rays to uncover hip joint dysplasia.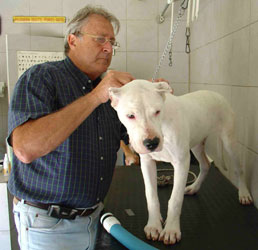 Dr. Daniel Mudrovici
During the Heat:
Blood test to ensure absence of canine brucellosis.
Vaginal cytology and progesterone test to determine stud service timing.
Dra. María Elena Loza
After Zeal:
Pregnancy diagnosis through palpation between the 23rd and 28th day of gestation.
Ultrasound echography if required by the veterinarian after the check-up performed twenty days prior to whelping.
Nutrition:
After the pregnancy confirmation, rations are increased.
Food requirements vary substantially during the last twenty days of pregnancy.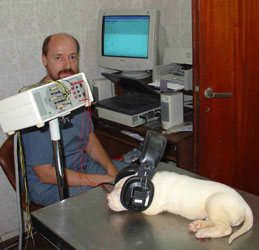 Dr. Fernando Pellegrino
Puppies:
Brainstem auditory evoked response (BAER test) to determine normal hearing levels.
Crónica TV, on Dr. Romero´s program Pórtese Bien, Sea Animal Veterinarian Dr. Fernando Pellegrino explains the benefits of the BAER test..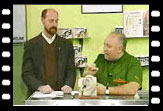 TEMPERAMENT & TRAINING
Forty years of training experience with Dogos Argentinos applied to the armed forces, hunting enthusiasts and innumerable private customers advise us in this crucial matter for the future owners of our pups.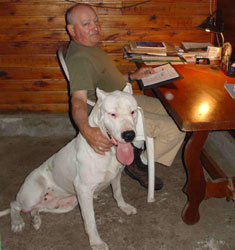 Crónica TV , on Dr. Romero´s program Pórtese Bien, Sea Animal we explain our experience of living with Dogos.